Spring EMGV Plant Sale a Whopping Success!
Find this article at:
go.ncsu.edu/readext?604740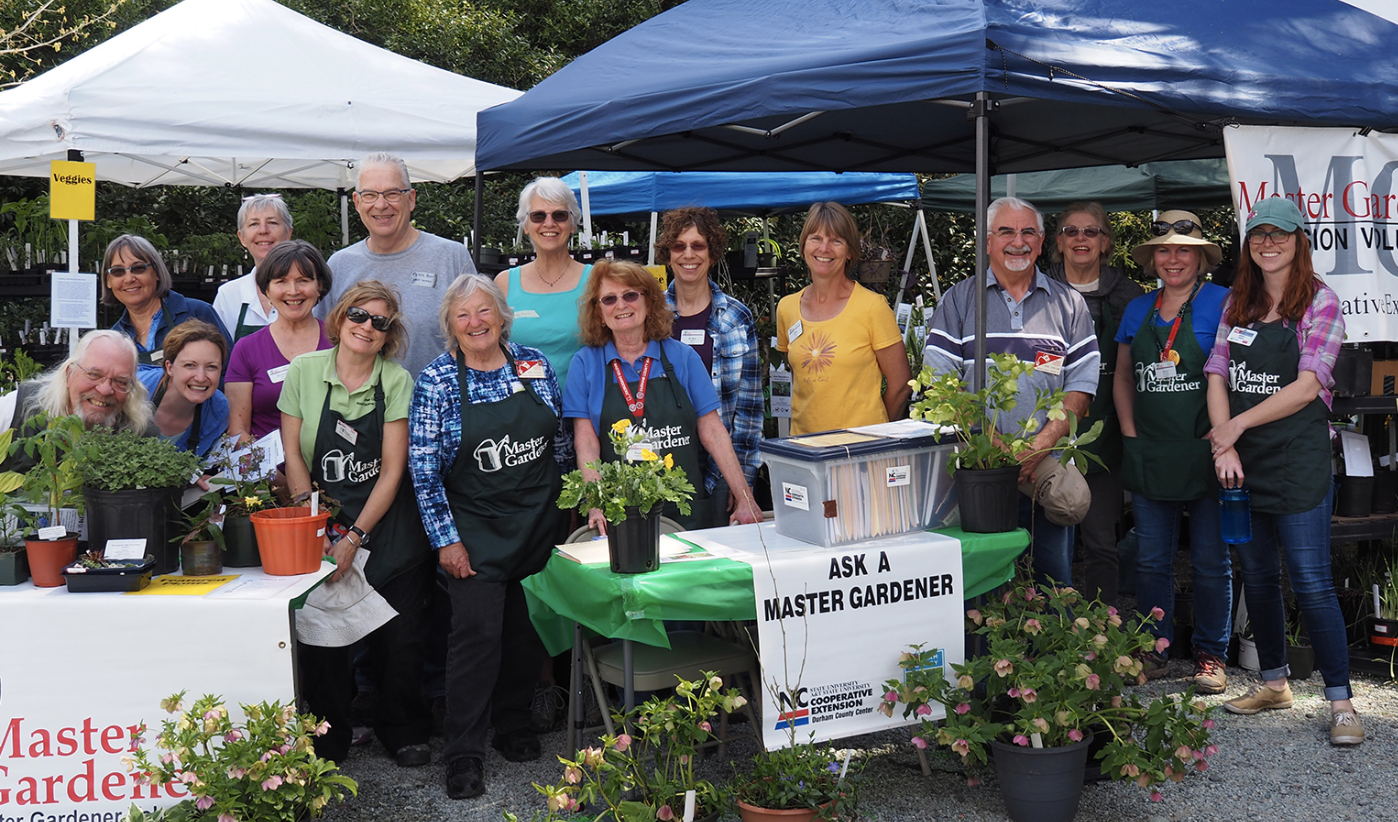 After a long, cold, wet winter, the last Saturday in March dawned warm and sunny. Seventeen Extension Master Gardener℠ volunteers (EMGVs) of Durham County took their positions, bright and early, at our plant packed booth. It promised to be a great day, as lots of eager shoppers milled about before the 8 a.m. opening, ready to pounce on some good deals. This year, our volunteers had amassed more plants than ever before, with an expanded selection of unique varieties of vegetables and herbs, perennials, native plants, houseplants, and shrubs. When the sale ended at noon, almost the entire collection of plants had been reduced to a few bedraggled specimens on the dollar table.
Months of planning and preparation—including 900 volunteer hours—helped raise just over $9,700. That total includes $2,834 in presales to the Master Gardener volunteer community. The sale was a huge jump in profit, compared to $4,670 in 2018 and $3,287 in 2017. Our biggest fundraiser of the year, the Plant Sale is a massive effort by our volunteers. People grow seedlings, propagate cuttings, dig plants from their own gardens, participate in potting parties, "babysit" plants at their homes, compile lists of donated plants, create plant ID and price labels, shuttle plants among various locations, and staff our booth—not to mention everyone who purchases plants.
Proceeds from the Plant Sale go to support N.C. Cooperative Extension community gardening programs and educational events in Durham County. Some examples of how funds have been used in the past include:
The Briggs Avenue Community Garden, which offers garden beds for rent, helping bring food security to Durham citizens and providing education and Food Pantry donations to benefit Durham Technical Institute students.
Outreach to area schools to promote gardening, nature, and nutrition education.
Demonstrations and talks for local community groups on all aspects of gardening.
The new cistern at the Foster Street office, which collects rainwater for the Demonstration Garden.
Revamping of the Demonstration Garden to provide examples of what can be grown on small challenging properties.
Fifteen percent of our profits also support Sarah P. Duke Gardens, which provides space for vendors during its annual spring sale. We are the largest vendor!
In the coming months, we'll be thinking of best ways to use Plant Sale funds. Where do you see a need? Would you like the Master Gardener volunteers to come and speak to your community group or club? We'll also report back on bestsellers and plants that didn't sell as well. As you garden this season, please consider what you might want to donate for next year's sale!
If you have any questions or would like information, contact Durham County Agriculture Agent Ashley Troth at ashley_troth@ncsu.edu, or stop by and see the EMGVs at 721 Foster St., Durham. EMGVs can also be contacted via email at mastergardener@dconc.gov – Marty Fisher, Extension Master Gardener Volunteer.