Durham County Virtual Clubs
Find this page at:
go.ncsu.edu/readext?737357
The following contains information about our Fall 2020 virtual club initiative in response to COVID-19. Some information may be subject to change. Read further below for more information and steps for registration prior to events. For more information about 4-H Clubs in general, please visit our 4-H Clubs page.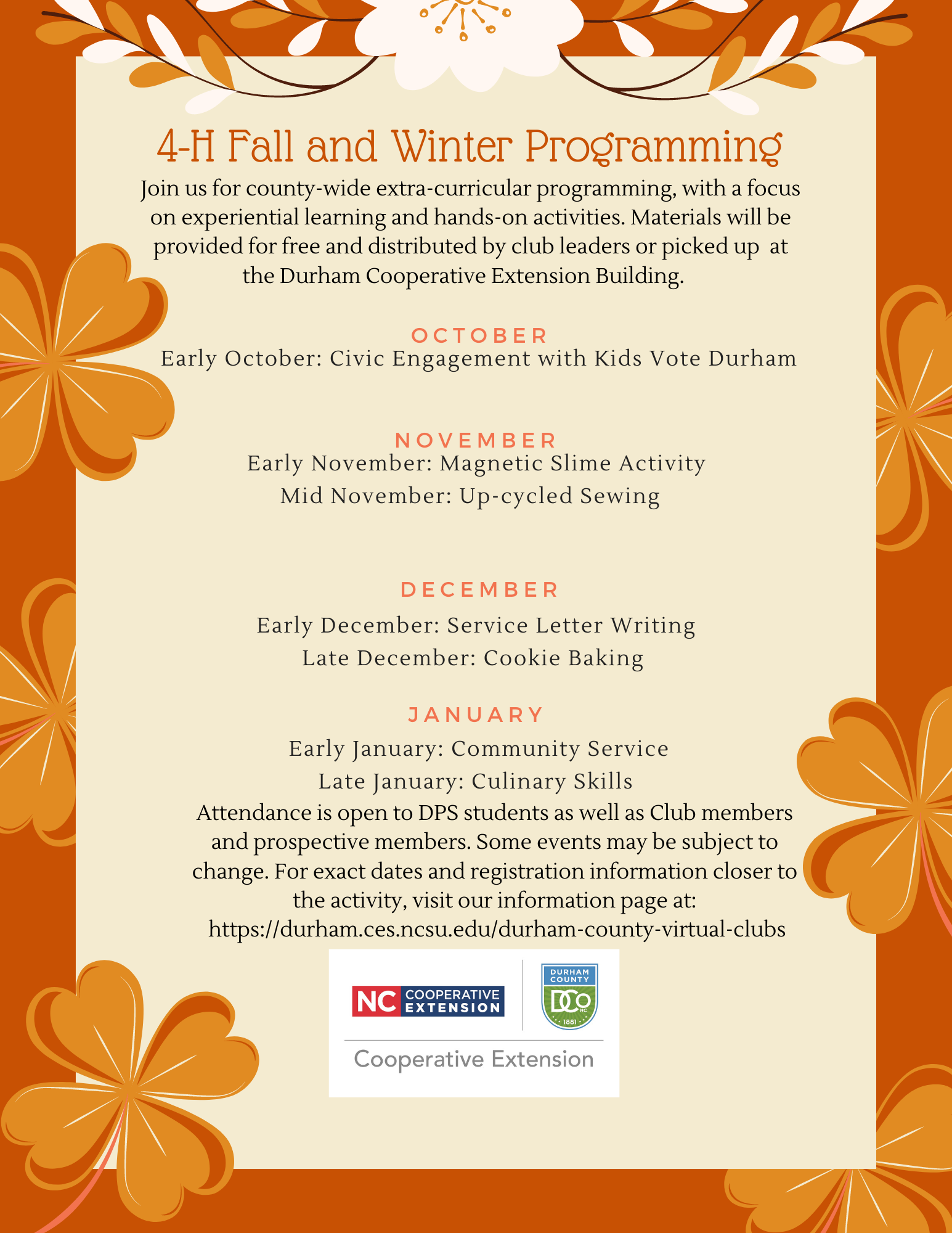 Hello 4-H Families,
Over the past several weeks we've been exploring alternatives to monthly club meetings. COVID-19 has obviously made it impossible to have safe face-to-face meetings, and virtual programming comes with its own challenges. After discussing with leaders, we've prepared a rough schedule of events for bi-monthly virtual gatherings, ideally with hands-on activities that you can do at home with your families. Materials for activities may be purchased with the 4-H budget and can be picked up from your club leader or from the N.C. Cooperative Extension of Durham County office prior to the event.
The following is a rough outline of activities for the following months. Some of these may be subject to change depending on enrollment, interest, and availability. Dates and times will be finalized later for other events, but we'll typically aim for two weeks between each activity, and attempt to hold activities on Wednesday or Thursday nights.
October 2020
October 15 – Citizenship with Kids Vote Durham
This session will be led by Durham Extension's Kids Vote Durham program lead and youth volunteers to educate your youth on the importance of civic engagement. We'll do a number of activities, including using the Kids Vote USA ballot to submit an early vote as soon as the polls open. We'll also include the KVD voter guide, which helps educate elementary, middle, and high school kids about local, state, and national political campaigns and causes. If you're interested in participating on October 15 at 6:30 p.m., please provide some basic information on the following Google Form.
If you missed our meeting, you can view a worksheet we completed on what engaged citizens feel, think, do, and say. Visit KVD's website to find voter guides for all ages, including guides for Instagram, and weekly activities building up to the election. To see results visit this link for Durham County 4-H Results or Durham County Kids Vote results.
November 2020
Mid-November – STEM Activity with Sharon Hall
Mt. Level's club leader, Sharon Hall, will guide you in a STEM (Science, Technology, Engineering, and Mathematics) activity you can complete at home where youth will create their own magnetic slime. All materials will be provided through the 4-H budget. If you missed the meeting or would like to recreate the activity at home, view a recording of the directions. Download a copy of the directions handout.
Mid-November – Upcycled Hats with Dannell Warthen
Dannell has been an instructor for several years during our summer 4-H sewing and craft camps. During this session, she would be leading a lesson on how to create customized hats and legwarmers from up-cycled sweaters. Click to view a recording of the meeting video.
Early December – Teen Council Winter Letter Writing Campaign
Teen Council is prepared to provide holiday grab bags with activities and treats. In addition, our Teen Council will also be leading youth to write personal letters through a variety of non-profit organizations that send letters to the military, elderly, and more. To register, please fill out this Google Form by November 29. Pickup for materials will be the night of the 30th and 1st of December from 5–6 p.m. The meeting is from 6–7 p.m. December 2. Zoom link will be sent after registration window closes on the 29.
Mid-December – Holiday Fudge with Maggie Healy
Cooking Club Volunteer Leader Maggie Healy will help lead this activity. Ingredients can be picked up prior to the meeting! Please fill out this Google Form by December 13 to allow time to pickup materials. All materials will be included for free, except for cooking spray. Kits will include all other recipe items, a disposable pan, and wax paper. Pickup nights will be the 15th and 16th from 5–6 p.m. This club meeting will be held on December 17.
January 2021
Early January – Community Service Project with Lakisha Dzhilah
Kids Being Kids Leader Lakisha Dzhiliah will help us kick off the new year with an activity aimed at serving our community.
Late January – Cooking Class with Cheralyn Berry
Our talented FCS Agent will lead this session on culinary skills you can use at home. Any cooking required will include ingredients that can be picked up from leaders or the Durham County office prior to the event.
For any questions or assistance, please contact Durham 4-H Agent Mac Hulbert via email at gmhulber@ncsu.edu. Office phone calls are not forwarded and Durham County staff are largely working remotely.